NEHEMIAH BUILDERS RENEWED PLEDGES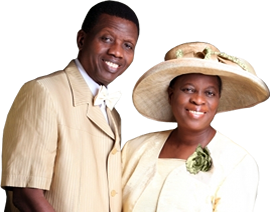 Men & Brethren

Calvary greetings in Jesus name. We want to thank our beloved brethren who took it upon themselves to honor the God of our father Pastor E. A. Adeboye with their substance willingly donated towards the building of the NEW AUDITORIUM. We were expecting about 3000 contributors but the Lord has HIS own plan to use HIS own people to achieve HIS own objectives. And so we want to thank you all for taking it upon yourselves to see to it that the house of God is built in our generation so that the coming generation will see the landmark as a proof that we served God in our generation and if the Lord Jesus Christ tarries in HIS coming another generation will gather together in that same house to praise the Lord our God. So let it be written and so shall it be done in Jesus name. Amen..
Beloved of the Lord, I have reviewed the extent of the development of our New Auditorium and how far we have gone on the site construction. I have also observed that huge resources are still needed to prosecute this project to conclusion and these resources will be provided by the Almighty God through HIS committed brethren who HE will bless gracefully in return in Jesus name. I have also observed that we can't ask for less from these committed brethren but for more as the beloved of the Lord and God's divine champions who believed in the truth that with God nothing shall be impossible.
While ruminating on all these I was impressed when some of our beloved brethren who believed that in Christ alone lies the strength of a divine champion and have on their own volition decided as Nehemiah Builders to continue their pledges for the next 12 months, thus voluntarily bringing up their pledges to 20 months from 8 months pledged before. As at today we have in all about 95 registered NEHEMIAH BUILDERS who have fully paid up their pledges with about 15 Nehemiah Builders that even paid beyond what they have pledged. After serious reviews of their suggestions I can only agreed with their suggestions as loudly demonstrated when about 83 out of the 95 brethren had gone ahead to update their payment pledges from 8 months to 20 months with few of them hitting the roof with their pledges all to the glory of GOD.
Men & Brethren let me still remind you of what happened on the night Daddy GO announced this New Auditorium. It was during our 61st Annual Convention in 2013, the Friday night witnessed huge attendance to the Glory of the Almighty God. The crowd seeking Jesus Christ our Lord and our Savior occupied all available space at the Redemption camp even to the extent that if we have double the size of the present auditorium on that day there will still be no space to sit or to stand. To the extent that the Redemption Camp as a whole was filled to capacity with brethren earnestly seeking JESUS. At around 5pm on that Friday my wife & children came to meet me in an office close to the present Arena and it took them over 2 hrs to get to me from the inside of the current auditorium. As she was narrating her experience to me saying inside and outside of the current auditorium were packed full and no place to walk even on the main road I told her jokingly "..Maybe we need a new auditorium". 'I think we need it o, God knows what will happen if it rain tonight', she retorted. For almost one hour I was thinking on what will happen if it rain that night. The thought kept coming to me, stampede, people running into the already crowded auditorium, possibility of running over pregnant women & children etc, but I kept saying God forbid, God forbid repeatedly.
While Daddy GO was ministering that Convention Friday night we had over 27,000 viewers who logged in to watch the programme online. In other to make sure the viewers were enjoying the streaming we usually watch the programme on our Laptops to ensure the quality of production. At the time when Daddy GO was talking about the attendance and what would have happened if it rain this day, I was afraid to the extent I began to use phone to trace my wife and children because I thought it will actually rain that night, but thank God it did not rain. Hallelujah!
THE ONLINE NEHEMIAH BUILDERS
The ONLINE NEHEMIAH BUILDERS are those who believed that towards the time of the end all nations of the world will run into the house of God to seek the God of Abraham, the God of Isaac and the God of Jacob and we must build a house to accommodate them. This group of people pledged to contribute whatever they can afford to enable the Church Of The Lord build a new Auditorium to the glory of God. However, the Online Nehemiah Builders have pledged to contribute minimum of N125,000 or $750 equivalent ONLINE every month for the next  8 months starting from 15th JANUARY, 2014. In all we are looking for 3,000 people of God who share in this vision and who believed in this course to the glory of the Almighty God. However based on commitment expressed by a number of our beloved brethren we have agreed together to extend our pledges to 20 months with additional 12 months. Those who are joining us afresh can join us and continue with us for the next 12 months
CHANGING YOUR PLEDGES FROM 8 MONTHS TO 20 MONTHS
Those who have pledged before can login to their Profile account with their NB Code and password, then CLICK on DONATE menu page then change NUMBER OF MONTHS from 8 to 20 from that page.
OLD NEHEMIAH BUILDERS
Those that have joined us before are kindly requested to login into their Nehemiah Builders profile to upload their passport photographs which we want to use to print their Nehemiah Builder's card to be endorsed by our General Overseer. Those who are registering afresh should please load their passport photograph too. The Nehemiah Builder's gold card will be printed for those who have completed their pledges for between 8 – 12 months period and a platinum card for those who complete their 20 months pledges. The cards will enable you to access the NEW AUDITORIUM effortlessly.
If we were able to meet the 3,000 registered members who fulfilled their pledges unto the Lord at the end of the 20th month this 3,000 RCCG ONLINE NEHEMIAH BUILDERS will be hosted during the next convention or at a time fixed by our Daddy in the Lord at Redemption Camp. For those who cannot come they will participate live through WEBINAR services. Not only that the team names will be printed and carefully engrafted and delivered to Daddy GO on the day of our first service in the New Auditorium , the whole world will pray for them and their names will be published on stones placed within the IT Plaza in Redemption camp for public access.
HOW TO REGISTER & MAKE YOUR CONTRIBUTION
Whether you are a member of the ONLINE NEHEMIAH BUILDERS or not you can still make your contribution online or by cash towards the New Auditorium by following the instruction below:
I am willing to make a minimum contribution of N125, 000 or $750 equivalent in USD every month means I am joining ONLINE NEHEMIAH BUILDERS. Therefore, click on NEHEMIAH BUILDERS and register normally and make your first payment. For you to save your details your payment must be equal to or greater than =N=125,000 or $750 equivalent. After then the system will display your ONLINE NEHEMIAH BUILDERS membership code i.e. RCCGONB00001 & this code will be sent to your email and to your mobile phone as text. When next you want to make your payment you don't need to register again just go to www.rccg.org then click on ONLINE NEHEMIAH BUILDERS, then click on SIGN IN, then enter your membership code and your mobile phone number as password, you can then make payment again until you complete the 8th payment on your schedule. You can click on payment details to see how many payments you have made. For those who want to pay cash, you have to register first, and then obtain your ONLINE NEHEMIAH BUILDERS code. You will then take this code to any branch of Zenith Bank and pay cash. Please note that you must go there with your ONLINE NEHEMIAH BUILDERS CODE for the payment to appear under your name.
For each payment you make you will receive either a confirmation email and/or sms whichever and you can login to view your payments. You can download RCCG ONLINE NEHEMIAH BUILDERS apps for mobile payment too from www.rccg.org .
I WANT TO CONTRIBUTE BUT DON'T WANT TO JOIN THE ONLINE NEHEMIAH BUILDERS: You are welcome too and we have several people like you, just click on
If you want to pay cash at the bank too it is easy just copy this code RCCG2014ONB then go to any branch of Zenith Bank, there they will give you a small form to fill where you will fill details such as your full name, address, mobile phone numbers, email address (if any), sex (whether male or female), your country, currency type and amount you want to pay. Once they received the money from you the RCCG Church Management System will send you an acknowledgement that the Church has received your payment. If you didn't receive an acknowledgement you can call our hotline to confirm your payment